Why Women Leave their "Ideal"Marriages : Three themes I have seen as a Relationship Therapist
Why women leave their committed relationships | Maybe you've personally experienced what I am about to discuss, or maybe you have just seen women around you make the decision to leave their marriages. Either way, this blog is intended to discuss certain themes I have seen as a Relationship Therapist that are associated with women in particular choosing to leave their "ideal" marriages.
Before we begin, I want to strongly express that this blog is not intended to make any strong generalizations or judgements, but rather discuss particular themes I have seen within modern heterosexual marriages. Also, when I say "ideal marriages" I am referring to the list of societal checkmarks that project a "good husband," (example: doesn't cheat, doesn't steal, isn't abusive, is committed, is a good father and/or provider, etc, etc).
There's no denying that marriage and commitment have all been redefined in our society. Generational shifts, gender related shifts, empowerment and free choice have all influenced the ways in which the modern person identifies, views tradition and responds to commitment.
This isn't "right", or "wrong," but (our) reality is, things have changed. We may find ourselves confused with what the "right" thing for us is; when we get to a certain age we may find ourselves with a lot of conflicting questions and not a lot answers. (i.e. "Do I want to get married? Why or why not?" "Is this person right for me?" "Do I want children?" "Have a waited too long to make a decision?" "Did I settle?") The shifts in tradition have positive influences, as well as negative. The negative influences can be that it lacks a supportive direction because we have so many choices, thus leaving us potentially feeling more and more confused with "where to go."
As a modern Relationship Therapist, I have seen certain trends that commonly pop up in client's experiences. One of which is many women making the decision to leave their (on paper) "ideal marriages." Sometimes seemingly out of the blue, after years of commitment and perceived "happiness."
When working with heterosexual couples, statistically speaking, I have had more women make this decision to leave than men. Again, not labeling or judging this as "good or bad," just strictly a common observation. Does this surprise you?
In the big picture, I find this interesting.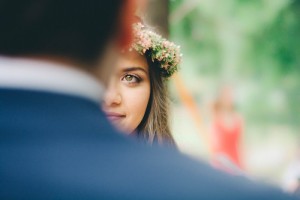 Obviously every woman, every man, everyone… is different. We cannot possibly chalk this up to one argument that insists "all women who chose to leave their marriages do it because ______." Rather, I would like to identify 3 causes I have consistently found throughout my experience as a Relationship Therapist that have been leading factors to the why's of women leaving their "ideal marriages."
#1 Why women leave their ideal marriage : They've "lost and/or have redefined themselves."
Simply put, I've seen many couples who have been together/committed since they were 19-25 years old and now in their 30s or 40s, the women come to realize how much of themselves they didn't know and/or explore when they made the decision to share their life with someone.
From their perspective, they may feel as though they attempted to share their new discovery (or desire to discover) with their husbands, but repeatedly felt rejected or dismissed in the process. After months or even years of feeling isolated with this part of themselves rarely exposed, they start to (consciously or subconsciously) pull away from their husbands and feel a sense of emptiness.
They feel vulnerable, conflicted with the newness they have tapped into, but also feel embarrassed or ashamed due to their perceived partner's neglect in exploring this side with them. This new part of themselves can be as simple as gaining new hobbies; a new friend group; a new job; a new sense of confidence. It can also be as deep as a newly found spirituality, sexual desire, or a new phase in their lives that creates a new meaning in their identity (example: becoming a mother).
Let's take a realistic scenario. A woman defines herself as a hard worker, independent and self reliant; she gets married, has babies and stops working as much, if not entirely. The woman losses self confidence and independence, and internally shuts off due to her confusion of her own self worth. Her identity has become a "mother" and she doesn't recognize the other parts of herself that once liberated her. After her children are a bit older she finds herself disconnected from the world, her relationships and even herself; she wants to re-establish and find herself again only to perceive and feel as though she's met with criticism and judgment from her husband. Her husband may not logically understand what the big deal is, or understand her needs to re-establish her identity and may dismiss the severity. She feels conflicted, abandoned and alone. After years of attempting to restructure her sense of self and feeling insecure and isolated by her partner, she may find herself wanting to end her marriage because she feels there is no other option to feel empowered, confident and authentic again.
#2 Why women leave their ideal marriage : They haven't clearly communicated to their partner the severity of their fears or needs (until their decision to leave has already been made or an affair has happened).
Again, not a criticism or judgment. A mere observation I have seen throughout the years when working with couples. One correlation that seems to generate across the board is seeing some women get so defeated by their perception of their failed attempts, that often by the time they get to counseling, they have already made up their mind to leave their marriages. They feel completely discouraged, as many of them feel they had communicated over and over what their needs and fears were, but their partner "never listened."
Again, no right or wrong, but as the objective perspective in the room, I can see how some of these women perceive the situation and why it would feel discouraging to them. I can also see their male counterpart's perspective, that they internalized their partner's attempts to communicate as being nagged or criticized over and over again, (i.e. "you never take me out anymore," or "I'm at home either the kids all day and you barely notice me when you get home,") and missed reading between the lines of what their partner was trying to communicate ("I'm unhappy, I'm lonely, I'm feeling abandoned.")
This disconnect in communication is common in all the relationships I work with and I explain it in terms of a "vulnerability scale." I ask my clients to rate themselves based on a scale of 1-5 in vulnerability. When they come into session, they are mostly speaking their truths in an emotional 5. When they are at home they may only be communicating to each other at a level 1-3.
We don't realize that just because we are speaking, doesn't mean our vulnerability and intention is being heard. If we have communicated for years at a level 1-3, no wonder our partner hasn't been hearing us. A level 1-3 has a tone, is often aggressive or demanding; it is protecting our overall insecurities and is wrapped up in unneccessary content. This message is very different than communicating to your partner at a level 5 and expressing your deepest needs, insecurities and feelings without defensiveness.
The unfortunate part of this situation; it's simply due to lacking tools. Most of us don't know how to speak at a level 5 with our partner; most of us feel isolated or misunderstood by our partner at times; most of shut down. Years of perpetuating this cycle, I can understand why couples separate. It's exhausting. However, my suggestion, if you are currently experiencing this, seek support right away! This could save your relationship…. and in my belief, it can be saved.
#3 Why women leave their ideal marriage : They realize they have created a life that has only "checked boxes" verses actually being fulfilling in a way they authentically desire.
This isn't always the case, (none of these are by the way) but I have seen many women get to a place in their lives that they reflect and realize they aren't really fulfilled. They start to realize they may have been operating out of societal norms or perceived expectations, and never really gave themselves permission to pursue what they wanted.
Many women may find themselves at a crossroads where they realize the things they "settled for" when they got married, are actually huge needs that aren't getting met.
They then find themselves conflicted with how to ask their partner for these things when they "knew what they were getting" when they agreed to get married. This is tough because they want to ask for what they need (example: more emotional connection) but know practically that they married a man that doesn't have the capacity or offer this to them. They feel stuck with suppression, are conflicted and feel stuck. They may also experience extreme guilt, as they may love other parts of their partner but still feel incomplete, (i.e. "he's such a good dad," or "he doesn't cheat, he takes care of me financially and supports my career goals.")
---
This blog may really resonate with you; it may shake up a lot for you as well. Maybe you're a woman who can relate to these feelings… or maybe you're the man who struggles with understanding why their wife is leaving and/or left. This blog is intended to promote insight and awareness. Everyone's story and situation is different, and everyone has the right the make their own decisions; but if you're in a situation that is similar and you'd like to prevent divorce or have a safe space to discuss divorce, counseling can be incredibly helpful. Learning the tools to better understand yourself, as well as how to speak more clearly with your partner, can be exactly what your relationship needs in order to grow.
Counseling can be a preventative tool as well, so it's never a "bad" time to seek someone out to assist with building more understanding and clarity within your partnership.
Thank you for reading. Please share any and all comments!